Presents
The PKD pistol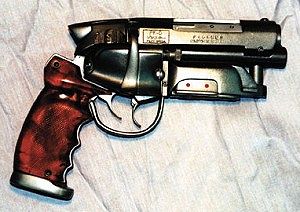 Take aim with Doppleganger's all new recreation of the Blade Runner's gun -- The Flazger/Katasumata Series - D. This stunning replica was expertly sculpted and tooled by Rick Ross and includes 31 resin parts that assemble to a 10" length. Realistic beyond compare, it's scaled at 1/1 and is right on target with clear amber casted grips, L.E.D. lighting kit and a gun barrel stamped with English and Japanese markings.
-- AMAZING FIGURE MODELER #10

You can order the Doppleganger Pistol at MONSTERS IN MOTION.

Richard Coyle at RACprops takes an extensive three-part look at the origin of the Blade Runner Blaster.



My copy of the blaster I painted in such a way to suggest gun barrel bluing.

I use my airbrush and paint the gun's upper body black and then use a thin layer of gun blue.

Dispatch androids with this

perfectly detailed model kit of the

original. Kit includes functional

L.E.D. lights.
$150.00 Kit
$350.00 Built and Painted
BZ - RATING
4 Runners
---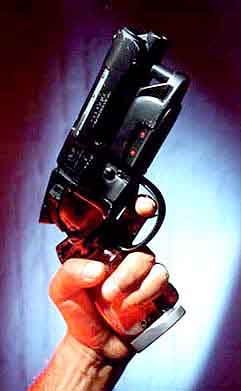 This new kit can be found at www.villagecomics.com for $100.00, a nice price for such a cool looking kit. As soon as I get a copy of this one I will post my rating, but for now, I'd say this is a nice bargain.