Article by Joanna Cassidy - Arranged by Gary Willoughby - Graphics by Bryan Ebenhoch
In mid-1980 I auditioned and was hired by Ridley Scott and Warner Bros. Studios, to portray the Replicant character of Zhora in the film Blade Runner.
There was much discussion about the costume that would be appropriate for the character Zhora to wear. At the time, I owned a snake (doesn't everyone) whose name was "Darling". Ridley decided to include "Darling" in a dance sequence that was planned. I explained to him that snakes move by squeezing and then relaxing propelling themselves, and I thought that the costume should be easy for "Darling" to move about on since he was new to the movie business and was going to have to adjust and become accustomed to many other new experiences. I thought the more comfortable the costume I was wearing, the easier it would be for "Darling".
The first time the audience sees Zhora is in the hallway walking towards the dressing room of the tacky Night Club called the "Snake Pit". That is about the time in the screenplay when Harrison Ford's "Deckard" character starts putting the mystery together.
Ridley and I talked about the dance sequence with the snake and envisioned Zhora coming out of a sand dune in slow motion, her hands emerging first covered with particles of sand indicating her arrival and "Darling" doing the same.
During the dance sequence Ridley wanted to have a brief beautiful encounter with a naked Zhora dancing with the snake. When it came down to the actual scene, Ridley decided to have Zhora's character wear a costume. This costume consisted of three relatively small pieces of nylon strategically placed and then thousands of sequins carefully glued on my skin. It took three hours to apply the makeup for that scene and a lot of patience.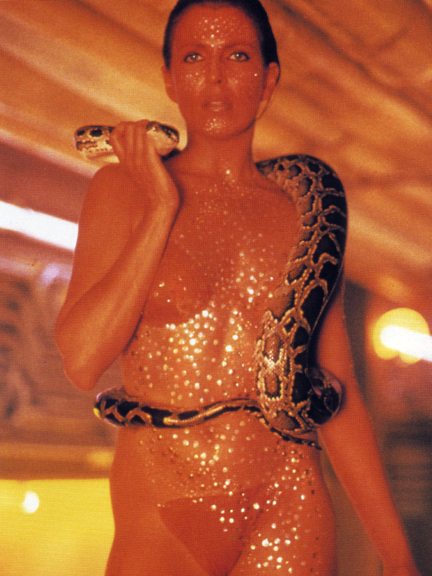 The next decision was about what was Zhora going to wear during her escape from "Deckard". I suggested we have my friend Marika Contempasis design a costume for the chase scene. Marika is a genius at crochet and today many pieces of her work are on permanent display in museums nationwide. We talked about the color the costume should be. Ridley wanted a very muted palette so that Zhora could move about almost invisible. During a meeting with Marika, Ridley who is a brilliant artist drew what he envisioned, which was a figure with a nymph-like quality. He drew a figure with almost nymph-like look. At the end of the meeting Marika said she could make it and would have it ready in six days.
Marika called and said the costume was ready and we went to see it. It fit like a dream, but was very fragile and Ridley appreciated it , but felt it needed to be enhanced to make Zhora look much tougher (more like rough trade), but with an air of the super human quality which Replicants have. I was very happy that I could wear a bit more because I knew we would be shooting nights and because it would be very cold around four o'clock in the morning.
By now the film was in production and I had been rehearsing with a dancer for the "Dance in the Dunes".
Ridley got together with Charles Knode and designed a very exotic black leather costume that I actually could run and fall in.
He made two sets. I have one and I believe the other didn't survive except for the Bra that had the blood squibs.
The Charles Knode costume consisted of a clear plastic raincoat, the leather bra, boots, pants, and a flesh colored leotard. There was only one nymph costume made, by Marika, which consisted of a small top and bottom. Michael Kaplan knew about the nymph costume Marika made, and the order to make it, and he wrote me a letter regarding the costumes authenticity.
I was shocked when I went to the studio to see the costume Charles had made. I had my measurements taken a week before and like two naughty school boys Ridley and Charles waited for me to change into my costume and emerge from the changing room, and then they watched me go from pink to red in my black leathers. I tried to act nonchalant, but it was nearly impossible in the Warner Bros. dressing room with the overhead neon lights accentuating my white skin. I think I said something like "Where's my whip?" , and we proceeded to break into gales of laughter. That broke the tension. I realized I would have a lot of fun being a dominatrix for the next three weeks, of course Ridley would love shocking the producers and audience with his Zhora.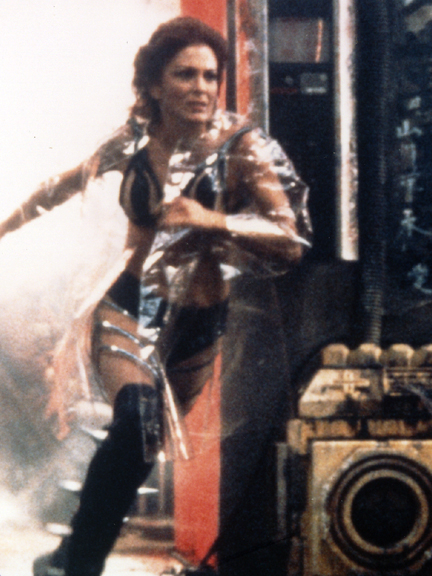 To make the character even more dedicated and exotic, Ridley came up with the idea of a snake tattoo subtly wrapped around my neck. I loved it even though it wouldn't show that much under my hair when it was down, but having the stenciled tattoo applied every day took my mind into Zhora's and I became the woman who was desperate to survive.
Ridley spoke endlessly about the Replicants. He loved the concept that humanity was morphing rapidly into artificially created humans. We were both happy with my last take after Zhora was shot and as she lay dying, a tear slowly fell down the side of her cheek.
In terms of the costume in the dance sequence, I wanted to mention the Egyptian looking headdress Zhora wears (carries) into the dressing room of The Snake Pit bar after her performance. We set the scene for Zhora's exotic snake dance, the feeling Ridley wanted the audience to have was that of a queen rising from her burial ground under the dunes. Since whenever did the dance, I'm not sure how the headdress would have appeared, but it as it was we used it as a prop, and really for that purpose. It was great looking and did make me appear gigantic since it blended into my dark makeup and it almost appeared to be growing from my head.
I hope this short article explains a bit about the costume I wore in Blade Runner.