BLADE RUNNER
White Dragon Cut V4.0
This Version 4.0 by Kazuchoice
Review written and edited by Gary Carden.
Please read the original version HERE
Just over a year ago, Kazuchoice surprised the hell out of me when I received his own edited version of Blade Runner. It was by far the best fan based version I had ever seen, and was not what I expected of a fan edit. Usual fan editions are merely additions of deleted scenes, or in some cases subtractions of over kill scenes that are not needed. Kazuchoice has used the scenes found on the extras disc to perfection, and gone further to actually create scenes, shots and special effects to alter existing scenes and go where the Final Cut did not. Zhora's snake dance can now be seen for the first time, and other scenes are now explained fully using his own ideas. All these will be explained throughout the review.
Watch this fantastic "Making-of video" to get yourself up to date.
First and foremost this time around is the fact that I noted a Dolby Digital AC3 5.1 surround audio channel, and the quality of the edit appears to have gone up a notch, to say the least. A whopping 2:48:52h running fills the new DVD complete with motion menus to the cool tune of 55 chapters. At first I thought the film was spread over 2 DVD's as per the last version, however this time around the full film is on DVD 1 and DVD 2 contains some fantastic bonus material - Alternate scenes (not Warner's alternate scenes - his own!) The making of white dragon cut, trailer of his version, Syd Mead art and finally a broadway boogie woogie (yes all that will be explained later!).
I have no doubt that this film will turn heads on Hollywood. How can somebody, a mere budding enthusiast, take stock film at production level, and create what I believe is the best fan edit film ever. Seeing is indeed believing. A quick round up of this version shows the following -
Change from the original 640x400 to some 1280x1024 resolution.
Audio is now Dolby Digital AC3 from standard stereo.
Included is almost all deleted scenes from the extras disk and the interviews section.
Newly created scenes, such as the vidphone and the microscope "dream scene".
Existing footage is reversed and mapped with new graphics (frozen Chew).
Two new sections made from totally different films (James Bond Gold Finger and From dusk till dawn).
Stunning animated menu's on this new version
Rather than completely review the whole disk again, its best that you read through the original review (HERE) and get to grips with the extras that Kazuchoice has placed together. Their are numerous changes to the FC version, only the updates are mentioned here since v1.
White Dragon scene #1
This first extra scene can be found directly after Leon shoots Holden at the Tyrell Corp. A blimp `fly by` scene complete with geisha girl is now found and superimposed on the existing deleted scene.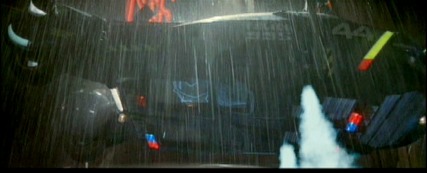 Purge #6
Purge (getting its name from the text on the spinner monitor) has been cleaned up, and there are several versions of Purge available (see the extras).
Rachael
This scene gets my thumbs up. a problem with adding or subtraction video (especially with feature films) is that the audio track simply doesn't match up. The author has gone to great lengths to remove the audio and then place the track from the gonzo/pre release tracks as to repair the running time. This results in audio that matches the extra footage inserted. Another thumbs up from the BZ camp!
Hunterwasser extension
An extended scene in an extended scene - how does that work! Leon hiding within the ceiling at his Hunterwasser apartment has been cleaned up and has far more clarity, which is difficult as the scene is dark anyway. There is now an extra scene from the window.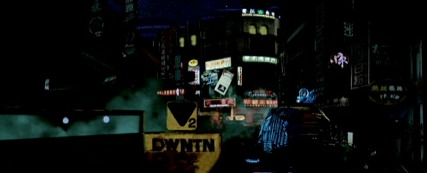 Chews Visitors
You may need to watch the extras/making of to understand what is happening here, but basically a totally new scene has been created of downtown. Taking a still and placing images over the top has created a new perspective of china town.
Frozen Chew
Another definite thumbs up is the addition of a new scene labeled `Frozen Chew`. Holden is now seen entering the Chews eye factory after he has been tortured by Batty. Using his magic, Gaff now enters the premises and is seen viewing the remains of Chew, now fully frozen.
Snake Dance
Though I reviewed it as an extras last time, The Snake Dance scene (that was never shot!!) now makes it into BR. Using a scene from Dusk till Dawn, Joanna's Head has been superimposed on to Salma Hayek. Excellent use of available resources here. Another thumbs up.
Wake up
The Geisha girl has been reworked and now looks more like it was always there.
Only two of us now...
For me personally, this was the best addition to date. Pris is aimlessly wandering around Sebastian's apartment, and she looks into some sort of microscope. She can now be seen viewing the Deckard unicorn dream. In this version it would finally clear that Deckard is a replicant. His dream had been implanted by Tyrell Corp, and they already knew he was a replicant.
No way to treat a friend
This scene has been inserted as per the original draft script by Hampton fancher. Pris can now be seen viewing the video phone and seeing Deckard. Fantastic use of ideas and resources!
Prodigal son
Extra usage of Kazuchoice's special effects are quite literally dotted all over the disk!
Building ledge
There is a hand full of scenes here that now look totally different. A blimp on a few occasions can now be seen flying between the buildings.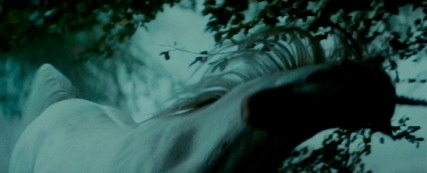 Made for each other
There is a subtle addition at the end of the film. Just as Deckard and Rachael drive off into the sunset, the dream sequence is repeated.
Kazuchoice has reminded me again, that in the instance of Blade Runner, that more is more. It doesn't happen in all films, indeed directors go to great lengths to see their finished cut doesn't go over 90 minutes. Here however we see Deckard as a true detective, we see Los Angeles 2019 with far more scope than the original. The addition of extra home made scenes has led to the explanation of Deckard's world. This is better than we could see by watching the original version. Finally some scenes have the voice over re-inserted, though mostly from the lost archives, Kazuchoice felt they were needed to keep the audience (old and new to BR) in pace with the film.